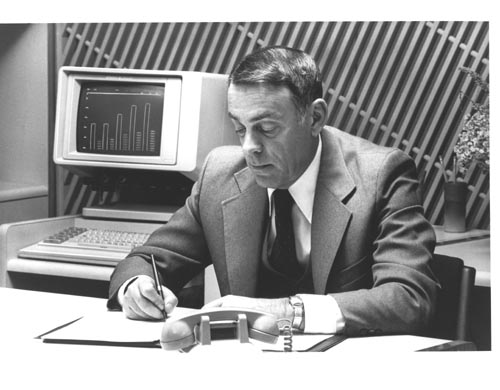 Title
Sperry Univac SPERRYLINK Office System
Publisher
Sperry Univac
Place of Publication
Blue Bell, PA, US
Dimensions
overall: 8 in x 10 in
Description
B&W image of a man seated at his desk. He is writing. A telephone is in foreground. In the background is a computer display with keyboard. The display has a graph displayed.
Verso: Attached metadata. "Business graphics for use in management planning are one of the key features of the new SPERRYLINK Office System introduced by Sperry Univac. An important payback from the SPERRYLINK system comes from addressing executive, managerial, professional and technical needs, as well as secretarial and clerical tasks. A revolutionary system, SPERRYLINK fully integrates voice services, personal computing, electronic mail, word and data processing with an ease-of-use unequalled in the industry.
From: Michael M. Maynard Sperry Univac P.O. Box 500 Blue Bell, Pa 19424 Tel: 215/542-4213"
Category
Identification photograph
Credit
Courtesy of Gwen Bell