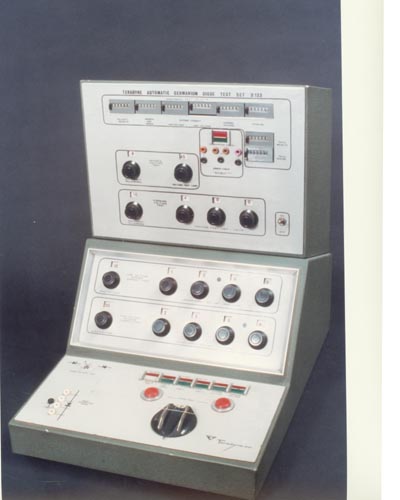 Title
Teradyne - Automatic Germanium Test Set D133
Dimensions
overall: 10 in x 8 in
Description
Color image of Teradyne Automatic Germanium Diode Test Set D133.
Verso attached metadata: "The first Teradyne product (1961): an automatic tester for semiconductor diodes. Test limits were programmed on front-panel switches, diodes were dropped into the magnetic test fixture, and the operator pushed either of the red buttons. Green or red lights then indicated whether the devices passed or failed.
In later years, as transistors and integrated citrcuitsgreatly increased the complexity of programming, the fornt-panel limit switches gave way to the computer."
Category
Identification photograph
Credit
Courtesy of Gwen Bell