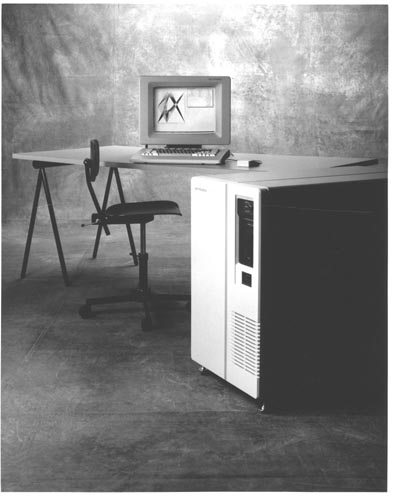 Date
1986-07-29
Identifying Numbers
| | | |
| --- | --- | --- |
| Other number | 258-068/1935B | Metadata |
Dimensions
overall: 10 in x 8 in
Description
B&W image of Symbolics 3650. In foreground is the floor standing processor and controller with the display, keyboard and mouse in background on a table with chair in front.
Verso attached metadata: "POWER AND ECONOMY -- Symbolics, Inc. has announced the Symbolics 3650, a mid-range development system for symbolic processing applications. Fully compatible with other Symbolics computers, the 3650 incorporates VLSI CMOS gate-array technology to reduce the Symbolics proprietary processor to a single board, resulting in higher performance, greater expandability, and lower life-cycle costs. The minimum 3650 configuration includes a processor, monochrome console with keyboard and mouse, four megabytes of main memory, I/O controller, Ethernet interface, backplane, cabinet and 386 megabyte disk drive. Price is $65,900. Options include color console, additional 386MB fixed disk or cartridge tape, 9-track reel-to-reel tape, CAD buffer, 8-and 24-bit color, G-Bus, floating point accelerator and printer support. Availability is immediate, with delivery within 90 days after receipt of order.
Contact Jim Neuman Senior Public Relations Specialist 4 New England Tech Center 555 Virginia Road Concord, Mass. 01742 (617) 894-3600 Roxanne St. Claire Gray Strayton International (617) 894-3100 Slug: Conpact Design Date 7/29/86 258-080/1937B"
Category
Identification photograph
Credit
Courtesy of Gwen Bell