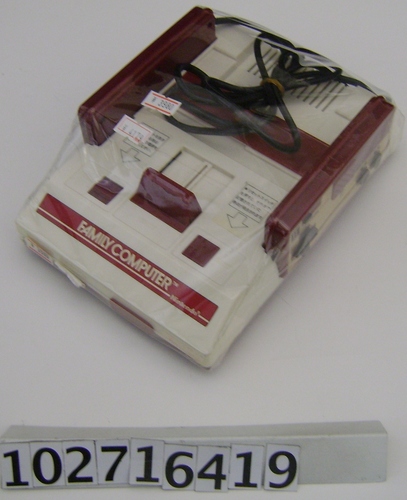 Title
Nintendo Family Computer (Famicom)
Description
Package had various price sticker labels in yen: "3980" and "4179". Sticker was removed and plastic packaging was discarded.
Date
1983
Manufacturer
Nintendo Co., Ltd.
Place Manufactured
Japan
Identifying Numbers
Model number
HVC-002
Other number
HC4327357
Label on bottom of unit
Dimensions
overall: 3 in x 6 1/4 in x 8 1/2 in
Category
Fixed-application digital computer/game console
Curator Notes
By the early 1980s, Nintendo had found success in arcade games, including the smash hit Donkey Kong. Introduced first in Japan in 1983, the Famicom became the best-selling console of its time. Two years later, the Famicom was introduced to the US as the Nintendo Entertainment System (NES) where it was a blockbuster product. Unlike the NES, the Famicom had several peripherals available, including a modem, keyboard and disk drive system that allowed players to save games.
Credit
Gift of Joe Britt