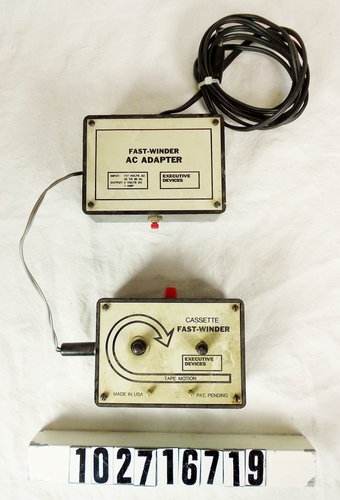 Title
Cassette fast-winder and AC adapter
Manufacturer
Executive Devices
Place Manufactured
U.S.
Identifying Numbers
| | | |
| --- | --- | --- |
| Model number | FW-10B | Found on the gold sticker on the back of the fast-winder |
Dimensions
AC adapter: 1 3/4 in x 4 in x 3 5/8 in; Fast-Winder: 2 1/4 in x 4 in x 3 5/8 in
Description
The cassette winder has two knobs, which spin clockwise to wind the tape. There is an arrow to indicate the direction of the tapes motion. The lower right corner says "PAT. PENDING". "SLOW DOWN AT EOT" is on a green sticker on the side of the winder. The AC adapter is attached to the cassette winder via a banana plug and cord. The adapter has a red button on ode side, and from the back extends a black cable ending in a standard male two pronged American plug.
Category
Miscellaneous/tools and hardware