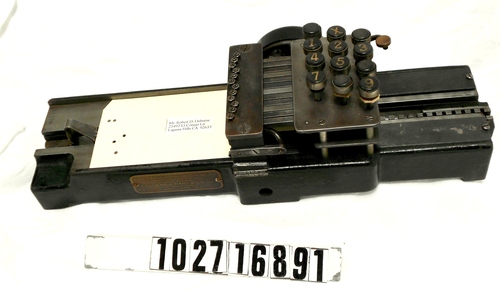 Manufacturer
Tabulating Machine Co.
Place Manufactured
Poughkeepsie, N.Y.
Identifying Numbers
| | | |
| --- | --- | --- |
| Other number | 11574 | Stamped in the metal of the card outflow bed. |
| Other number | 2104 | Stamped in each of two metal insert blocks on the front of the punch frame structure. |
| Other number | 316 | Stamped in the primary metal casting, on the front, just below the punch frame. |
Dimensions
overall: 4 1/4 in x 16 in x 5 5/8 in
Description
The object is a hefty single casting with machined surfaces and metal inserts to provide a transport bed for a punched card. The transport mechanism steps the card through 45 positions, or columns. There is a release lever/button to move the card to the left onto the outflow bed of the machine from any of the positions. Mounted above the transport bed is a mechanical keyboard of twelve keys linked to twelve round punches arranged in a line across the passing card. At each card column position, any number of these twelve row positions may be punched. There is a brass builders plate attributing a 1901 patent to "The Tabulating Machine Co." of Washington DC. The same plate identifies the "Frederick Hart & Co. Inc" of Poughkeepsie N.Y. as the "maker". The acquisition entry for this lot suggests that the 11574 number stamped on the outflow bed is a serial number, but there seems to be no indication of what the number represents on the machine itself.
Category
I/O/punched card device
Credit
Gift of Robert Osborne