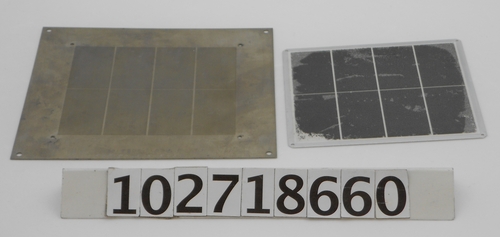 Manufacturer
Buckbee-Mears Company
Identifying Numbers
| | | |
| --- | --- | --- |
| Other number | EF-7803-1 REV. D | Stamped on back side of hole template |
| Other number | PO#80-508-845 | Hand engraved on back side of hole template. |
Dimensions
overall: 1/8 in x 5 3/4 in x 5 5/8 in
Description
Object consists of 2 pieces. The "hole template" is a flat metal plate with depressions for cores on one side and holes through to the other side.
The "carrier plate" is a smaller metal plate with a white material on it. A large number of cores are embedded in the white material in the pattern of the depressions in the in the "hole template".
Dimensions given are of the "hole template", which is larger.
The cores are small and 15 mm is much larger than any dimension of the cores. It appears that 15 micron inside diameter might be correct.
A web search for patents for "core memory nest" shows a few patents for thinge like the "hole template".
Category
Component/other
Credit
Gift of Vernon Bolleson