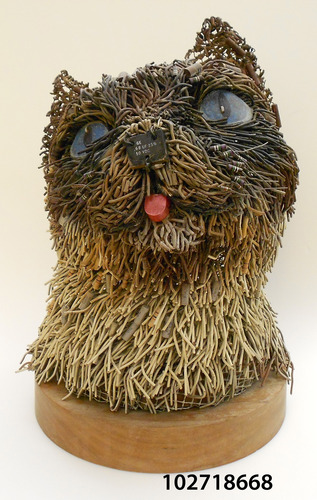 Title
Honeywell component sculpture, Siamese cat
Place Manufactured
U.S.
Dimensions
overall: 12 1/2 in x 8 3/4 in x 9 1/2 in
Category
Ephemera/other
Curator Notes
"Amy" is a Siamese cat that is part of the Honeywell animal sculpture collection. It was named after a Honeywell executive's daughter who came up with the idea for this design. The ad featuring "Amy" ran with the tag line "Picking a computer is no time for pussyfooting" and promoted the Honeywell Series 200 computer.

Business Week magazine awarded Honeywell's EDP Division an "Advertising Achievement Award" for consistently producing creative and high scoring advertisements from 1964 through 1967, and based on internal Business Week metrics, "Amy" was the highest scoring ad for the sculpture campaign during that period. The Honeywell Grasshopper and St. Bernard, both part of the CHM Honeywell sculpture collection, placed 8th and 12th respectively for Honeywell's ad campaign throughout this timeframe.
Credit
Amy Davis Ancel