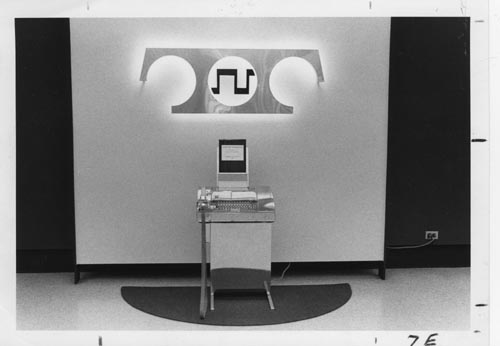 Dimensions
overall: 5 in x 7 in
Description
Color. Publicity photograph of a standalone teletype.

Metadata: "When Teletype Corporation's 500,000th model 32/33 data communications terminal came off the production line on October 23rd, it was just a little diferent than the preceding 499,999 units ... it was plated in gold to commemorate this milestone in Teletype's history. In terms of numbers produced for a single model, it establishes a Teletype record and undoubtedly an industry record as well.
The first offical user of the gold model 33 was Pat Shakal, a teletype employee, who transmitted a personal message from Floyd C. Boswell, teletype's president, to friends in the industry. speaking for all the company's employees, Boswell noted their pride in producing a communications terminal that has made made signifgicant contriobutions to all fields of industry and commerce in the 12 years since its introduction. Teletype's gold model 33 will be displayed at the corporate headquarters and various trade shows. October, 1974"
Category
Photograph
Credit
Courtesy of Gwen Bell