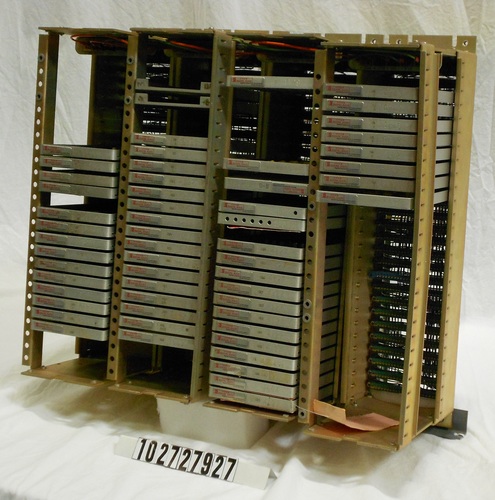 Manufacturer
Digital Equipment Corporation (DEC)
Place Manufactured
Maynard, MA
Identifying Numbers
| | | |
| --- | --- | --- |
| Deprecated CHM identification number | X2244.2002A | Catalog number originally assigned. |
| Other number | 136-19 | Stamped on metallic label on bottom right of rear inside bracket |
Dimensions
overall: 22 1/4 in x 19 1/4 in x 9 1/4 in
Description
This object consists of four anodized aluminium card cages (A through D from left to right) of 25 slots partially filled with varied System Building Block modules wired together and bolted to a bracket on the left side.
Several modules are loose, or in the wrong position (based on position numbers stamped in ink on the module edge).
Several modules have red repair tags and one is plugged in upside down. The right side has power connectors with 10 and -15 volts (fixed and variable) plus ground, with three associated toggle switches in the rear. Also on the rear is an indicator light bracket (which appear to have been cut off) and two mounted toggle switches mounted between modules A and B.
Category
Interconnect: backplane
Credit
Gift of Robert Garner