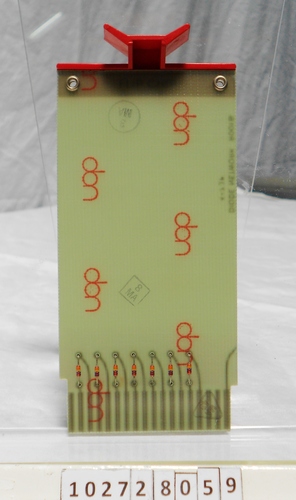 Title
Flip Chip R001 module
Description
One (1) R001 module with green substrate and a red plastic extraction handle attached by two rivets. The handle reads "DIGITAL EQUIPMENT CORPORATION MAYNARD, MASSACHUSETTS" in raised letters on the solder side. The board on the solder side reads "DIODE NETWORK R001B" and "4-73" along the left-edge. There are two black inspection stamps, one circular and one square, on the component-side. "FLIP CHIP" is visible through the board between the rivets. A repeating pattern of "don" is printed in red on the component side of the board.
Date
1964 ca.
Manufacturer
Digital Equipment Corporation (DEC)
Place Manufactured
Maynard, Mass., U.S.
Identifying Numbers
| | | |
| --- | --- | --- |
| Model number | R001 | Printed in white on face of handle |
| Other number | 333 | Incised on solder side of handle |
| Other number | 4-73 | Printed in solder on solder side |
Dimensions
overall: 1/2 in x 2 1/2 in x 5 1/2 in
Category
Component/module