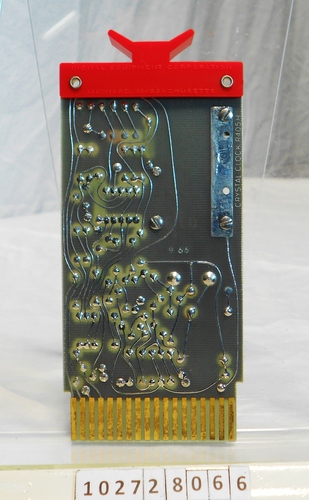 Title
Flip Chip R405 module
Date
1964 ca.
Manufacturer
Digital Equipment Corporation (DEC)
Place Manufactured
Maynard, Mass., U.S.
Dimensions
overall: 1/2 in x 2 1/2 in x 5 1/2 in
Description
One (1) R405 module with a red plastic extraction handle attached to a green board by two rivets. There is a metal plate covering all but the last 1/2 inch of the component side. Spaces are cut out of the metal plate to surrounding several components. "FLIP CHIP" is etched between the two rivets. "CRYSTAL CLOCK R405H" is printed in solder along the right edge of the solder side. A "FLIP CHIP MODULES TEST DATA" sheet , dated November 14, 1966, is associated with this artifact and resides in the archival collection.
Category
Component/module