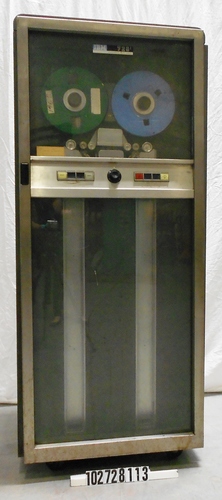 Title
IBM 729-I Tape drive
Date
1954
Manufacturer
International Business Machines (IBM)
Place Manufactured
Torington, Conn.
Identifying Numbers
| | | |
| --- | --- | --- |
| Other number | 729 10950 EO | Found on metal label on back behand the back panel. 10950 is also stamped into the frame of the machine. |
Dimensions
overall: 69 in x 29 1/4 in x 31 in
Description
This object can be associated with either the 705 IO or 709 system donated by Paul Pierce. The front door of the machine opens on a hinge at the right. On the left there is a large black release button. At the center top front of the door there is a manufacturer's label that reads "IBM 7929 Magnetic tape unit." The door is constructed of two pieces of Plexiglas divided by a metal crossbar with a knob at the center that has a set of command buttons on each side. Inside the door there are two magnetic tape reels. The one of the left is green with two affixed paper labels which read, "146 PS CS 200" and "Printed OPR DRB BPI SV/ User reels SF/ Job/ title/ Use ink do not erase." Handwritten over this label is "punch B CB 200." The reel on the right is blue and marked IBM in raised letters. "13" is written on a white sticker fixed to the spacer between the reels. There is one paper label fixed to the outside of the door to the right of the handle reading, "Punch Only."
Category
Memory/tape
Collection Title
Paul Pierce Collection
Credit
Gift of Paul Pierce