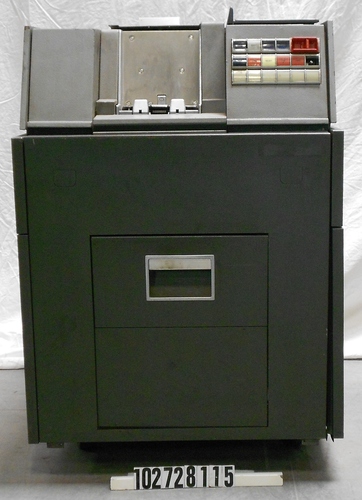 Title
IBM 7511 card reader (IBM 7094)
Date
1964 ca.
Manufacturer
International Business Machines Corporation (IBM)
Identifying Numbers
| | | |
| --- | --- | --- |
| Other number | 548-1101 | Cast onto the internal frame on the left side of the machine |
| Other number | 7223 | Type number found in the customer engineering incident reporting IR log book |
| Other number | 7223 11006 E2 | On th IBM property tag on the left interior of the machine. |
| Other number | ST 2 M-F 8.5-5.5 | Red pressure tape label on the left interior edge of the machine |
| Serial number | 1106 | Found in the customer engineerig incident reporting log book. |
Dimensions
overall: 42 1/2 in x 29 1/4 in x 31 in
Description
This object is part of the IBM 7094 system donated by Paul Pierce. The cards are through the front and extruded from the top of the machine. The reader is two toned with a medium dark gray at the bottom and a lighter gray at the top. The panels are released by pressing in a pair of flush release buttons, which allows them to drop down on a hinge. The front panel can be lifted off completely. At the front in the top right corner there are three rows of command buttons and a large red switch. There is an orange paper sticker inside at the back that reads, "Ontario Hydro Electrical approval by special inspection - series W." There is also an IBM coverage sticker on the external side of the back panel with the type and serial number and the that the unit was owned by the University of Toronto, Dated March 1st 1969.
Category
I/O/punched card device
Collection Title
Paul Pierce Collection
Credit
Gift of Paul Pierce