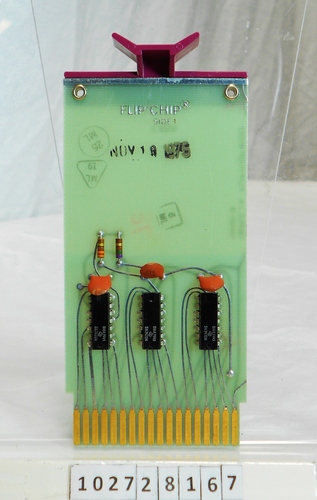 Title
Flip Chip M202 module
Date
1968 ca.
Manufacturer
Digital Equipment Corporation (DEC)
Identifying Numbers
| | | |
| --- | --- | --- |
| Model number | M202 | Printed in white on face of handle |
| Other number | 602 C | Incised on soldr side of handle |
Dimensions
overall: 1/2 in x 2 1/2 in x 5 1/2 in
Description
One (1) M202A module with green board and a magenta plastic extraction handle attached by two rivets. The handle reads "digital" in raised letters on the solder-side. The board on the solder-side reads "TRIPLE J.K. FLIP-FLOP M202" along the left edge. "FLIP CHIP" is printed between the rivets of the handle, component-side. There are three black inspection stamps on the component-side; one circle, one square, and one triangle. "NOV 19 1975" is printed in black. A repeating "Tc" pattern is printed on the board in red.
Category
Component/module