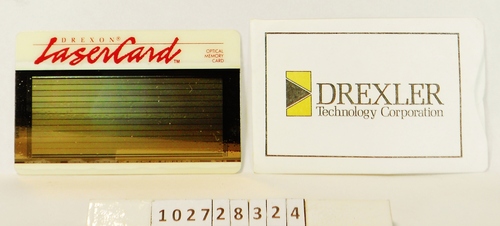 Title
LazerCard optical memory card
Manufacturer
Drexler Technology Corporation
Place Manufactured
Mountain View, Calif.
Dimensions
overall: 1/8 in x 2 1/8 in x 3 3/8 in
Description
Object is a credit card sized piece of cardboard with a reflective surface on the front. On the back it reads, "This is a sample "LazerCard" brand optical memory card for data recording. It contains a reflective lazer/optical recording stripe for storing up to 2 megabytes of digital data on a wallet sized card."
Category
Ephemera/other