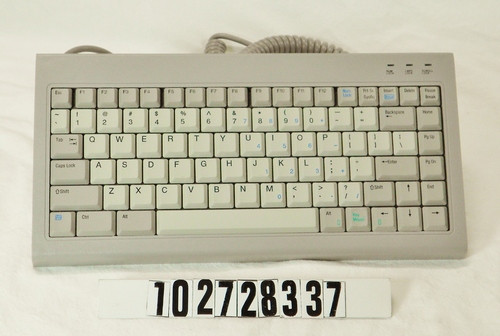 Title
Prototype "KeyMouse" keyboard
Manufacturer
Key Tronic Corporation
Place Manufactured
U.S.
Identifying Numbers
| | | |
| --- | --- | --- |
| Other number | 19-05-91-S | White label on left side of bottom |
| Other number | FT09 | White label on edge of bottom |
| Serial number | 10-018-91-128 | White label in the middle of the bottom |
| Serial number | SN 0002653 | Whilte label on left side of bottom |
Dimensions
keyboard only: 1 3/4 in x 12 1/2 in x 6 1/2 in
Description
Object is a compact keyboard with a coiled cord ending in a round 5-pin plug for a PC/AT. The keyboard has arrow and function keys but not a numeric pad. Lower right is a special "Key Mouse" key with raised nubbins at each corner; possibly this key could be used as a small joystick. On the bottom are four rubber feet and two smaller metal bumps covered in tape. There is a small hole revealing two DIP switches. A number of gummed labels are on the bottom. One at top center reads "KeyTronic(r) KeyMouse(tm) Demo" and "Requires an IBM PC/AT or AT compatible computer". One at bottom center reads "This is a LOANED demo product and remains the property of KeyTronic Corp. This assembly contains proprietary technology and is NOT to be opened." To the right is a small label reading "Patent Pending". A large red label reads "THIS DEVICE HAS NOT BEEN APPROVED BY THE FEDERAL COMMUNICATIONS COMMISSION. THIS DEVICE IS NOT AND MAY NOT BE OFFERED FOR SALE OR LEASE OR SOLD OR LEASED UNTIL THE APPROVAL OF THE FCC HAS BEEN OBTAINED."
Category
I/O/keyboard