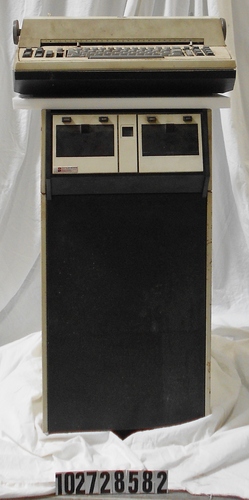 Title
Redactron Data Secretary word processing system
Date
1970 ca.
Manufacturer
Business Data Products
Place Manufactured
U.S.A.
Dimensions
overall: 40 3/4 in x 22 1/2 in x 21 in
Category
Fixed-application digital computer/word processor
Curator Notes
This donation comprises a word processor and typewriter that were used primarily in the late 1970s and early 1980s as a means of storing press contacts for Headley Plachta Rolfe, a book and theatre publicity company in the UK. It gave a clear advantage to its owners over their competitors in a field where quality and number of personal contacts were everything --- the Redactron system could facilitate automatic composition and printing of over 300 semi-personalized letters a day, whereas publicity companies without one may have only managed to produce a fraction of that number of letters.

Founded by Evelyn Berezin, the Redactron Company was later sold to Burroughs. Among other projects, Berezin became involved in venture capital, served on several high-profile Boards, and is a 2015 Computer History Museum Fellow.
Credit
Gift of Gwyn Headley