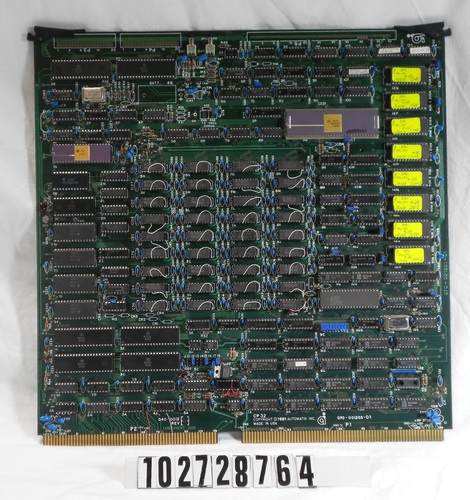 Title
Automatix 1 processor board
Manufacturer
Automatix
Place Manufactured
USA
Identifying Numbers
| | | |
| --- | --- | --- |
| Other number | 0057 | Written in ink on tape on the 68000 chip |
| Other number | 040-0012 | Printed in white ink on component side of the board near the edge connector |
| Other number | 040-001200 | Drawing label written in ink on the label at the extractor edge on the solder side |
| Other number | 070-001201-01 | Etched on the component side of the board on the right edge |
| Other number | 070-001202-01 | Etched on the solder side of the board on the extractor edge |
| Other number | 070-001203-01 | Printed on the component side of the board near the edge connector |
| Other number | E15 | Revision label written in ink on the label at the extractor edge on the solder side |
| Serial number | 007 | Written in ink on the label at the extractor edge on the solder side |
Dimensions
overall: 14 3/4 in x 15 in x 1 1/4 in
Description
This Automatix Autovision 1 CP32 68000 processor board has 120 pin edge connector and 180 pin edge connector at one side of the board. There are two extractors and two push buttons (labeled "HALT" "RUN" and "INIT"). There are three connector positions on the extractor edge that are not populated. The center of the board is dominated by an array of piggybacked memory chips. There are a large number of wire modifications strung on the solder side of the board.

This Automatix CP 32 processor board was first used in the Automatix Autovision II Vision System and the AI-32 Robot Controller. It was also used later in the Autovision IV and V. Like the Autovision I, it used a Motorola 68000 microprocessor. The 120 pin and 180 pin edge connectors at the bottom of the board are for the Motorola Versabus, the forerunner of the popular VME bus. The CP 32 card is the same width as the Versabus standard, but it is longer. Automatix card cages could accept standard Versabus card as well.

This example is an early prototype, as one can tell from the many wires and the low serial number. The CP 32 was designed to use 64K DRAM chips which were not yet available, so piggybacked pairs of 16K chips with the chip select pins separated were inserted to create a bigger memory in the interim. Another interesting feature of this board is that the memory was dual ported to allow fast access over the Versabus by the Automatix CP-416 Vision Processor which had the same form factor.
Category
Component/module
Credit
Gift of Automatix