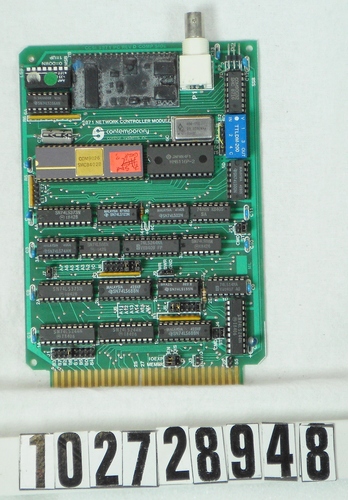 Title
S871 Network Controller
Manufacturer
Contemporary control systems, Inc.
Identifying Numbers
| | | |
| --- | --- | --- |
| Model number | CCSI S871 PC REV D | Etched in solder at the top edge of the component side at the extraction end |
| Other number | 153 | Handwritten in black marker on the circuit side at the extraction end |
| Other number | EEI E-8-0 | Etched in solder on the solder side of e board. The letters are in a circle |
Dimensions
overall: 7/8 in x 4 1/2 in x 7 in
Description
The object has about six rows of integrated circuits and very few passive components. On the top row there is a potted module. There is a two megahertz crystal mounted between the first and second rows. There are two round stickers, one green and torn, stuck to the upper left integrated circuit at the insertion end. All but one of the integrated circuits have sockets. At the left corner of the component side near the extraction end there is a eight pole DIP switch. On the right side on the component side toward the extraction end on the component side there is a blue component positioned between two integrated circuits which says, "TTLDM-200." On the largest integrated circuit there is an orange sticker with illegible ink writing.
Category
Component/module
Credit
Gift of Warren Yogi