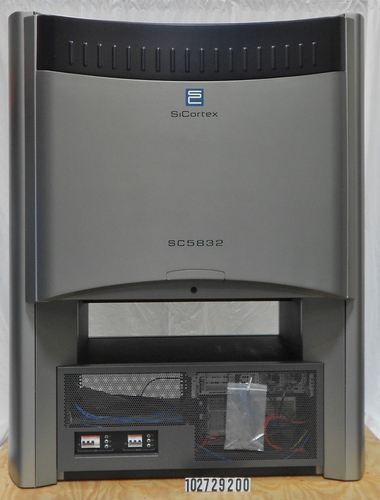 Title
SiCortex 5832 supercomputer
Date
2006
Manufacturer
SiCortex Inc
Identifying Numbers
Model number
SC 5832
Serial number
433-0002
On inside of two larger panels.
Dimensions
overall: 71 1/2 in x 68 1/4 in x 60 in
Category
Digital computer/supercomputer
Curator Notes
This supercomputer operated in the math building data center at Purdue University as a general high performance computing resource. It was in service from July 2008 until July 2013, when it was put into surplus inventory. SiCortex's line of supercomputers varied greatly in computing power, and price points ranged from $25,000 to $1 million. The SC5832 was the high-end model offered by SiCortex and it employed 5,832 processors as its name suggests. It was highly energy efficient compared to most traditional supercomputers and this design lent itself to a specific subset of research applications. The team at Purdue was, in part, working with the SC5832 in order to diversify and expand the types of research applications that it and similar supercomputers could perform.
Credit
Gift of Patrick Finnegan