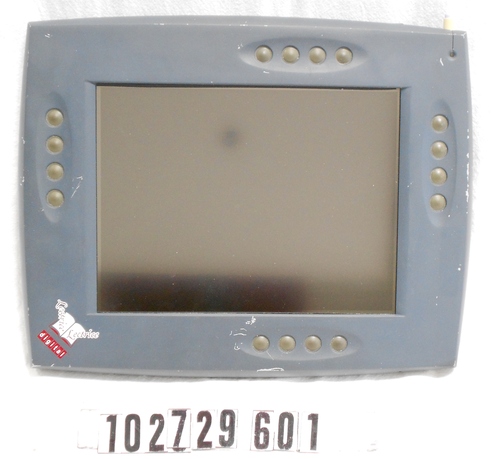 Title
"Lectrice" prototype ebook reader
Description
The object consists of a tablet, stylus, and a 10-megabyte memory card (PCMCIA), mounted in a slot on the side. Three permanently mounted connectors appear to be for an auxiliary display, an ethernet connection, and a bus mouse. There are also earphone and microphone plugs and an on/off switch. A battery compartment on the bottom of the object is empty. It appears that there is no power connection for the object. Four sets of four buttons each (both on the top and bottom of the object) apparently are used for page scrolling and other operations. A label on the bottom right front of the object reads "Lectrice" and "digital," and contains an open book image. Text on a label on the bottom of the object reads "tract." The screen measures 6.3 inches by 8.5 inches.
Date
2003
Manufacturer
Digital Equipment Corporation (DEC)
Dimensions
overall: 2 in x 10 1/2 in x 14 in
Category
Fixed-application digital computer/eBook reader
Curator Notes
This is Lectrice, a prototype ebook reader made long before anyone ever thought of them as commercial possibilities. It was the brainchild of Andrew Birrell of the Systems Research Center (SRC), later of Microsoft Research. It dates from the mid-to-late-90s and was part of several DEC projects in hand-held electronics that included SRC's Portable Jukebox (PJB), a prototype of whichCHM already has, and WRL's Itsy, one of the first general purpose portable devices, which is described in WRL research reports.

The primary research paper describing Lectrice is here: http://www.hpl.hp.com/techreports/Compaq-DEC/SRC-RR-157.pdf

For a web page showing one in operation: http://roosterteeth.com/members/images/image.php?id=2816853

Aside from its novel purpose and specialized interface for reading books, Lectrice was the first device to properly deal with eye fatigue resulting from the lack of resolution of late 90s screens. Lectrice used gray-scale shading to "move" characters by minute amounts so that fonts appeared with proper proportional spacing, despite the crude dpi ratings of the screens.