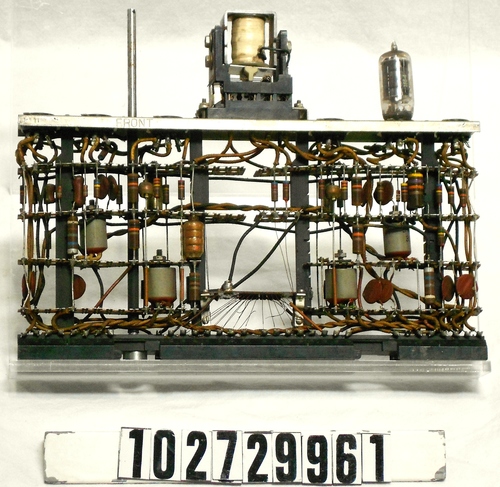 Title
IBM 700 series vacuum tube module
Description
The object is an IBM 700 series vacuum tube module. These modules were used in 701, 702, 704, 705, and 709 computers. The module consists of a steel front plate with 6 miniature tube sockets and a plug in relay. There is a plastic connector located about 5 inches behind the front plate. A plastic frame between the front plate and the connector supports 4 tiers of terminal strips. A variety of descrite components are soldered between the terminals on the strips. Near the connector is a small board with 2 rows of 12 magnetic cores threaded on very delicate wires. The connector has a locking cam on a shaft which protrudes through the front plate.

Paul Pierce supplied the following information about these modules:

Its a module for the 705 peripherals. Note that it has 2 rows of 12 cores, enough to store 2 punch card columns. There are about 40 of these in each of the card reader and card punch units (714+759, 722+758) and about 60 in the printer unit (756+717). These storage modules are actually located in the punch card units (714, 722, 717) rather than the controller so that its not necessary to run all 80 or 120 wires from the card unit to the controller.

According to something I read, these were the first core storage units sold by IBM, which means they would have been available before the 701 and 702 (with Williams tube memory) were replaced by the 704 and 705.

The electronics on the module consist mostly of two sense amplifiers for reading out the data from the cores.
Date
1955 ca.
Manufacturer
International Business Machines Corporation (IBM)
Identifying Numbers
| | | |
| --- | --- | --- |
| Other number | 1962E | Stamped in black ink on top of metal frame |
| Other number | 330672 | Stamped in black ink on top of metal frame |
Dimensions
overall: 9 5/8 in x 1 1/8 in x 7 1/2 in
Category
Component/module
Credit
Gift of Paul Pierce