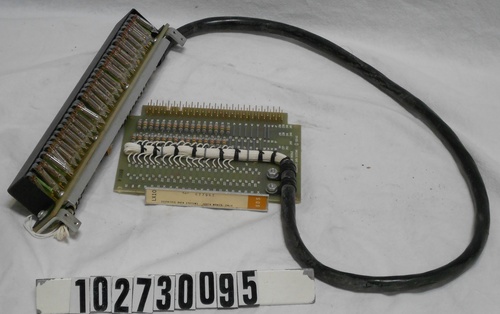 Title
Neon display with controller card
Description
This cable plug module consists of a driver board, a display holding 32 neon bulbs, and a black interconnecting cable.
The display provides a means to mount the bulbs, with glue, and route conductors. The driver card consists of contacts on one end, an insertion bracket on the other, and 32 resistors.
Manufacturer
Scientific Data Systems (SDS)
Place Manufactured
Santa Monica, Calif.
Identifying Numbers
| | | |
| --- | --- | --- |
| Other number | 100139C | Rubber stamped on the solder side of the controller card. |
| Other number | P 1000 | Rubber stamped on the component side of the controller card. |
| Serial number | 077967 | Printed on the extraction handle of the controller card. |
Dimensions
cable: 1/2 in x 1/2 in x 29 in; display unit: 1 3/8 in x 11 1/2 in x 2 1/4 in; driver board: 5/8 in x 5 7/8 in x 5 5/8 in; in box: 2 1/4 in x 12 3/4 in x 9 1/4 in
Category
I/O/console / panel
Credit
Gift of Rudolf F. Wrobel