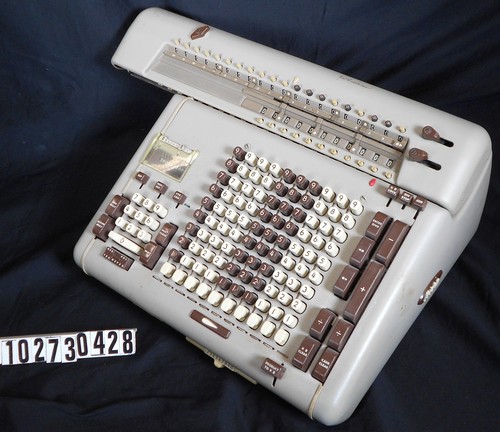 Title
Ultra-Matic calculator
Date
1959
Manufacturer
Friden Calculating Machine Co., Inc.
Place Manufactured
San Leandro, Calif.
Identifying Numbers
| | | |
| --- | --- | --- |
| Other number | 904239 | Stamped into metal frame on inside of bottom cover (see through window). May be serial number. |
| Other number | SBT 10 | Stamped into metal frame on inside of bottom cover (see through window). |
Dimensions
overall: 8 1/2 in x 19 in x 14 1/2 in
Description
By the 1950s, four function motor driven mechanical calculators had become common on the desks of engineers and scientists. Model SBT is generally similar to Model STW, but with the addition of a back-transfer mechanism from the accumulator to the keyboard. The machine also has a function which allows the counter register to be used as a secondary accumulator. Sums or products in the main accumulator can be transferred positively or negatively to the counter register to provide a "Grand Total" of a series of operations. The normal counting function is temporarily disabled when the register is used in this manner. The Friden had two registers on the carriage and one on the main body in the multiply section. (This section is to the left in the picture and looked almost like an entire calculator in itself.) The Friden featured keys labeled: MULT, NEG MULT, ACCUM MULT, MULT CLEAR, REP, NON ENT, CTR CON, ADD, +, -, and ENTER DIVD plus two keys identically labeled with the division symbol, shift keys, four unlabeled sliding switches, 20 tiny knobs, 11 thumb wheels and more. In addition each of the numbers 0-9 appeared 10 times in the adding block, once in the multiply block and once on the carriage. A label on the bottom says "120V AC or DC 100 watts". There is a 3 pin connector outlet for a 50's style connection on the back. There is no power cord with the unit.
Category
Calculator/electromechanical
Credit
Gift of Phyllis Meek