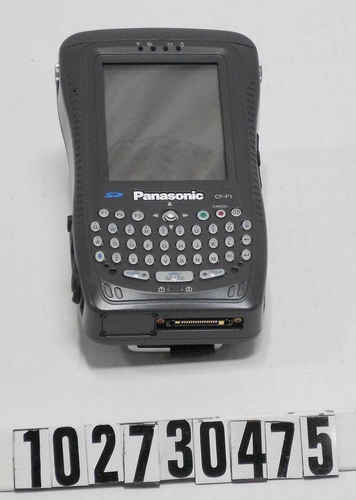 Date
1982
Manufacturer
Panasonic
Place Manufactured
Osaka, Japan
Identifying Numbers
| | | |
| --- | --- | --- |
| Model number | CF-P1 | Printed on label on back of object. |
| Serial number | 2AKSA01251 | Printed on label on back of object. |
| Serial number | CF-P1S3BZZ3M | Printed on label on back of object. |
Dimensions
overall: 7 in x 3 7/8 in x 1 7/8 in
Description
The Toughbook CF-P1 is a multifunctional handheld with integrated GSM/GPRS module, microphone and speaker allow data communication as well. The CF-P1 hasa shockproof, magnesium-alloyed case with sealed port and connector covers. In addition, the CF-P1 remains fully functional even in the most extreme temperatures, from –29 °C to 60 °C.

The CF-P1 is extremely easy to operate, thanks to the touchscreen and keyboard data entry options. The reflective, frontlighted 3.5"-color-LCD shows all information clearly, even in direct sunlight, while the backlit keyboard allows for input to continue when light fades.

The SD-card slot, the infrared-communication port and the 16-pin-expansion connector for USB or serial adapters offer exceptionally multifunctional storage and data transfer options for the CF-P1. Every need for wireless data transfer can also be fulfilled with the CF-P1, thanks to standard integrated GSM/GPRS, optionally also with WLAN and Bluetooth. Thus, the Toughbook CF-P1 is the ideal tool for mobile use – even from the most remote locations.
Category
Digital computer/personal computer/handheld
Credit
Gift of Ali Sharif-Emami