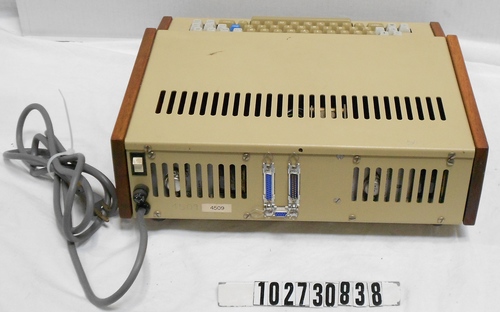 Title
Color PLATO Terminal Prototype
Manufacturer
Control Data Corporation (CDC)
Identifying Numbers
| | | |
| --- | --- | --- |
| Other number | 4059 | On gummed label on rear panel |
| Other number | 4059 | Scratched into paint of back panel |
Dimensions
overall: 5 1/4 in x 16 1/2 in x 19 in
Description
Object is a metal box with wood side-panels, offering a keyboard in front. Above the keyboard are buttons labeled "CONSOLE" and "RESET". There are vent holes along the top rear and the rear panel. The rear panel offers a power switch, a female DB-9 connector and both male and female DB-25 connectors.

The keyboard has a normal QERTY layout of brown keys and two groups of function keys colored gray. The central brown keys have lowercase letters on the key tops with colon/semicolon, comma, period, slash and ? keys in the usual locations. It differs from typical in that the apostrophe is shift-7, exclamation mark is in the bottom row over the period, and some of the shift-symbols in the top row are in unusual locations compared to current practice. From left to right the top row is (normal/shifted): 0/<, 1/>, 2/[, 3/], 4/$, 5/%, 6/_, 7/', 8/*, 9/(, =/).

The gray function keys on the left are TAB/CR, Plus (+), Implication (<=), Minus, Divide (./.), Multiply (X). The gray keys on the right are: SUPER, SUB, ANS/TERM, COPY, ERASE, MICRO/FONT, HELP, Quad([]), NEXT, EDIT, BACK, LAB, DATA and STOP.
Category
I/O/display/CRT
Credit
Gift of Bob Morris