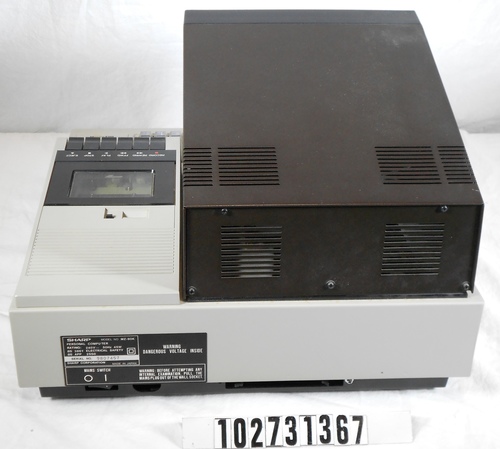 Title
Sharp personal computer MZ-80K
Date
1979 ca.
Manufacturer
Sharp Corporation
Place Manufactured
Japan
Identifying Numbers
| | | |
| --- | --- | --- |
| Model number | MZ-80K | Printed in black ink at the bottom of a plate attached to the front right side of the computer. |
| Model number | MZ-80K | Printed in silver on a black plate mounted to the left rear of the computer. |
| Serial number | 9807457 | Printed in silver on a black plate mounted to the left of the back of the computer. |
Dimensions
overall: 11 in x 16 in x 18 3/8 in
Description
The enclosure for this object starts with a square black base with trapezoidal vertical cross sections (wider at the top). The main body sits top of this base; it is gray rectangle with trapezoidal cross sections, 0.75 in the front sloping up to 3.25 in the rear. To the left on top of the front of the main body there is a 78-key keyboard; two keys are double width. The right five columns of keys have blue caps with graphic symbols printed on them. The remaining columns of keys comprise a QWERTY keyboard showing capital letters above which are various symbols and graphic figures. The numeric top row has two sets of symbols and graphic figures, one above the number and the other to the right of the number. Except for the bottom row, the key caps are black. The bottom row has yellow key caps and, in addition to the usual functions found on a standard keyboard, there are additional keys to provide the functions of the computer. On top of the main body taking up about two-thirds of the width from the left sits a black monitor enclosure with a 9-inch (diagonal) CRT screen. This enclosure also has trapezoidal vertical sides, 8.75 in in front and 3.25 in at the rear. Taking up the space to the right of the monitor is a gray cassette deck shaped such that the top surface is parallel to the table. The six control buttons and door of the drive are black; the drive door opens upward. A three digit counter and reset button are recessed in the enclosure toward the back of the drive door. A green metal label with "MICRODIGITAL" printed in red letters is mounted on the front of the drive, and is detached from the drive and bent for most of its width. A white reset button is mounted on the right front of the base and is labeled as such with "RESET" written in blue embossing tape stuck to the left of the button. The power switch and two connector power plug is mounted to the back left side of the base. Midway between these and the right edge of the base there is a 50-pin (in two rows of 25) connector with cable clamps on each end. Two power cords came with this object and are catalogued separately.
Category
Digital computer/personal computer/desktop