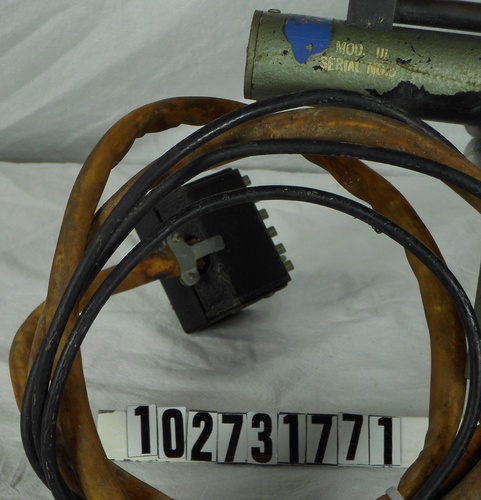 Date
ca. 1958
Identifying Numbers
| | | |
| --- | --- | --- |
| Model number | III | Stamped into left side of barrel. |
| Serial number | 5 | Stamped into left side of barrel. |
Dimensions
overall: 3 1/4 in x 7 in x 83 in; overall: 3 1/4 in x 12 in x 11 1/2 in
Description
This is a light pen from SAGE. It is actually shaped like a gun with a cylindrical handle, cylindrical barrel, a small hole at the front of the barrel, and a microswitch trigger at the rear of the handle covered with a copper colored metal strip. There is a black front cylindrical sight with a lens at the black connected to the barrel via a small cubical box, and a clear plastic rear sight that has a hole to sight through.
There are two cables connected to the bottom of the handle. One is a black coax cable with a male BNC connector at the far end, and the other is has 12 color coded stranded wires with yellowed translucent sheath with a connector that has two rows of 6 bladed pins and 2 round keying pins between the rows. The connector housing also has a potentiometer adjust protruding from it.

Both handle and barrel are gray enamel coated, while the front sight is black anodized. The rear plastic sight was painted red. The handle and the barrel are partially painted black that has been worn away. There is a piece of blue plastic tape on the front barrel with illegible writing, and a white sticker on the left side of the handle reads "N G 12/1/64 needs switch".
Category
I/O/pointing/other
Credit
Gift of the Digital Equipment Corporation