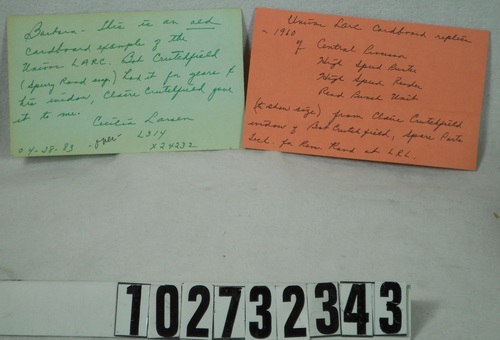 Title
UNIVAC Central Processor sales model
Description
Object is a cardboard box surface printed to represent the central processor of a UNIVAC computer. The front face represents a control panel and an array of circuit cards. The upper right corner has the Remington Rand UNIVAC logo.
The following two cards were found with this object. The text on the first reads "UNIVAC Lard Cardboard replica circa. 1960 of Central Processor, High Speed Printer, High Speed Reader, Read Punch Unit. (to show size) from Claire Crutchfield widow of Bob Crutchfield, Spare Parts Tech for Remington Rand at LRL. Boxes fit inside each other. To Cecelia from Claire."
The text on the second reads "Barbara - This is an old cardboard example of the UNIVAC LARC. Bob Crutchfield (Sperry Rand emp.). Had it for years & his widow, Claire Crutchfield gave it to me. Cecelia Larsen. 04-28-83. L314, X24232."
Date
ca. 1960
Manufacturer
Remington Rand
Identifying Numbers
| | | |
| --- | --- | --- |
| Other number | 83.087.02A | This number, which is handwritten on the inside, appears to be a depricated LLNL number. |
Dimensions
overall: 4 in x 6 3/4 in x 2 7/8 in
Category
Ephemera/other
Credit
Gift of Lawrence Livermore National Laboratory (LLNL)