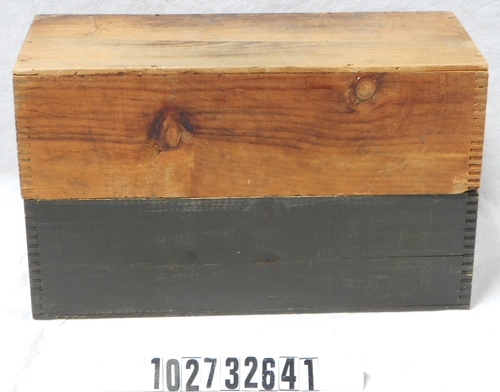 Date
1956 ca.
Manufacturer
Massachusetts Institute of Technology (MIT)
Dimensions
Module: 1 in x 4 3/4 in x 2 1/2 in; Overall: 8 3/4 in x 6 1/4 in x 15 in
Description
The record contains 15 TX-0 modules in a wooden box. Each module has a blue metal chassis with a 21 pin male connector at one end. At the other end there is a clear conical handle. Between the handle and the connector are two printed circuit boards each with their components facing outward. Three of the modules have writing on the side: "No output on 'o' side always - 3U 8-2-83 RJ" and "From LRO Reflective 9-12-61 - 9-13-61" are handwritten on pieces of tape; "EXP" is scratched into the side of another module. There are also three vacuum tubes type 6145 included in the box.
Category
Component/module
Credit
Gift of Digital Equipment Corporation (DEC)