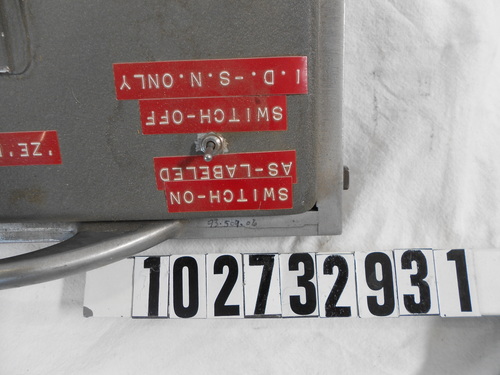 Identifying Numbers
| | | |
| --- | --- | --- |
| Other number | 82.137.05A | Deprecated LLNL number, handwritten on the side. |
| Other number | 93.509.06 | LLNL number, handwritten on the top edge. |
Dimensions
overall: 2 1/2 in x 13 in x 11 in
Description
This record contains one plug board. It has one handle and the plug board has a cover on top. The cover has a sleeve with a standard punch card that reads:

"ZE" Reproducer Board
COLS 01-72 punch & compare
"Master card" is 1st card in punch feed.
COLS 73-75 are reproduced into all following cards
COLS 76-80 if numbered will be raised by 1 on each subsequent card.(Note: do not use 9 in the units digit.
End printing of serial number is available by engaging print unit.


The cover also has DYMO labels that say, "SWITCH-ON AS-LABELED," "SWITCH-OFF I.D.-S.N.ONLY" and "'ZE' REPRODUCER-BOARD." The cover also has an on/off switch in the top left corner. The object contains two plug boards, separated by a metal border. The two boards have different markings. There are plugs inside.
Category
Memory & storage/connector / plugboard
Credit
Gift of Lawrence Livermore National Laboratory (LLNL)