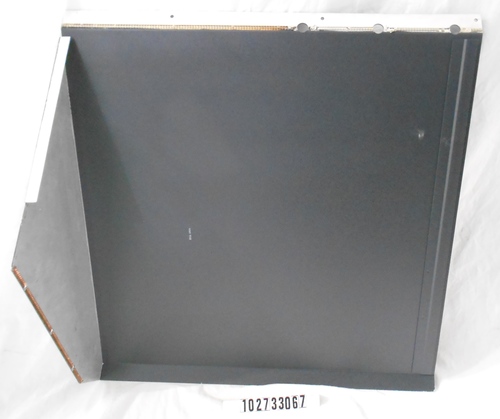 Title
Cray C90 cover panel
Date
1991
Manufacturer
Cray Inc.
Identifying Numbers
| | | |
| --- | --- | --- |
| Other number | 1299 6500 | Stamped in small white letters on the inside of the cover. |
Dimensions
overall: 29 1/2 in x 30 1/4 in x 9 1/2 in
Description
This cover consists of a single piece of metal with bends on three sides. The top one is bent inward at a right angle to the front of the cover; the right bend (looking from the outside of the cover) is bent about 1.5" inward at a much shallower angle, and the left bend is about 1.5" outward at roughly the same angle. The left bend has three holes about 0.75" drilled toward the outside edge, and three holes about 0.75" drilled such that the inside of the hole is at the bend. A strip of finger stock for electromagnetic shielding is attached along the entire length of the inside edge. The top bend is cut so the right edge of the top aligns with the right inward bend, and then extends about 3.75" inward at a right angle toward the inside. It cuts inward at another angle to an apex that is 9.5" from the front panel; three holes are drilled along this edge, and the inside has a strip of finger stock. The top edge finally cuts to meet with the left bend. Along the edge of this last cut an unpainted lip 0.875" wide is bent down at a right angle. A second strip of metal is spot welded along the bottom and bent to form a shallow groove along the bottom edge of the panel. Except for the lip mentioned above, the entire cover, inside and out, is finished with a dark gray hammertone paint.
Category
Component/panel/door
Credit
Gift of National Aeronautics and Space Administration (NASA) Ames Research Center