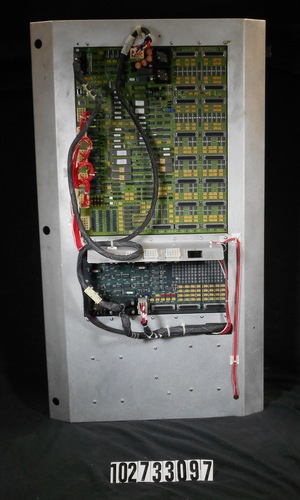 Date
1991
Manufacturer
Cray Research, Inc. (CRI)
Identifying Numbers
| | | |
| --- | --- | --- |
| Other number | 127 85 400/08 S/E 10/92 | Printed in black ink on cabinet bottom end. |
| Other number | 1805631 | NASA property barcode on the blue panel. |
Dimensions
overall: 44 3/4 in x 25 1/2 in x 21 in
Description
Object is a metal cabinet which is lying on foam blocks on a palette. The face that is up is the back side. It bears a single large circuit board which features many components including large ICs, but most prominently a number of connectors for cables. One large cable has a label "PI CLOCK INTERFACE"; another cable has "POWER MAIN CONTROL."

The front side of the cabinet (facing down toward the palette as stored) presents a blue control panel with a 12-inch LCD screen and a few square buttons, most prominently large ones labeled "START" and "STOP."

The cabinet hinges open to reveal a couple of small power supply modules. An L-cross-section bar was loose inside the cabinet and has been tied to the outside.
Category
Digital computer/supercomputer
Credit
Gift of National Aeronautics and Space Administration (NASA) Ames Research Center