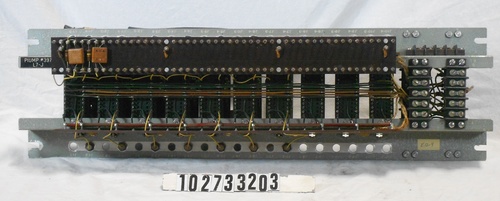 Title
Whirlwind vacuum tube module rack
Date
1951
Identifying Numbers
| | | |
| --- | --- | --- |
| Other number | E12-4 | Written in ball point pen on a sticker stuck to the left end of back of the upper channel of the rack. |
| Other number | PIUMP #397 L7-J | Engraved white on black on a plastic label attached upside down to the right end of the lower channel. |
| Serial number | 397 | Stamped in white ink on the left end of the upper channel of the rack. |
Dimensions
overall: 7 3/8 in x 26 in x 12 1/2 in
Description
The rack is built around two identical frame members consisting of a piece of heavy metal that is bent up along one side and down along the other, resulting in an 'N'-shaped channel with a 1.75" bend up, a 2.25" horizontal surface, and a 0.625" bend down. Two of these, oriented in opposite directions, are held together with ten 24-contact edge connectors into which two-tube modules are inserted. Two 11-position screw terminal strips also span the two channels on the right side of the front. Twenty round holes to accommodate BNC connectors are drilled along the front of both channels; however, not all the holes are populated. On the back of the rack, phenolic boards with several rows of solder terminals are mounted to the horizontal sections of each channel, and another phenolic board with two rows of solder terminals is mounted perpendicular to bottom one. Two 5-position screw terminal strips are mounted on the left side of the back of the rack, and one 4-position screw terminal strip is mounted to the bottom of the left end of the bottom channel.

About 7 long bus wires are connected to pins of the module sockets to supply common signals and voltages. The two horizontal boards are also wired with two busses each. The vertical board attached to the bottom horizontal board hold the passive components of the rack. Wiring is point-to-point between the solder posts of the boards and the terminals of the module sockets. Some of the wiring terminates at the screw terminal strips. Many of the external wires connected to the screw terminal strips have been cut.

BNC connectors populate 7 of the 20 holes along the top of the rack; each of these has a BNC cable that has been cut off attached. Eight of the holes along the bottom of the rack are populated with BNC connectors. One of the connectors has a BNC cable that has been cut off attached, and the rest have a BNC tee, a terminator, and a cut-off BNC cable attached.

Seven module locations are occupied by 2-tube plug-in modules, and all modules have a tag attached with handwriting in pencil. The module model, serial number, and tag inscription are, from left to right: GT BA# 1218, "E12-4-1"; GT BA# 1210, "E12-4-2"; GT BA# 1206, "E12-4-3"; GT BA# 1148, "E12-4-4"; GT BA# 1445, "E12-4-5"; GT BA# 220, "E12-4-6; and GT BA# 163, "E12-4-7". One module is missing a tube.
Category
Component/module
Credit
Gift of Compaq Computer Corporation