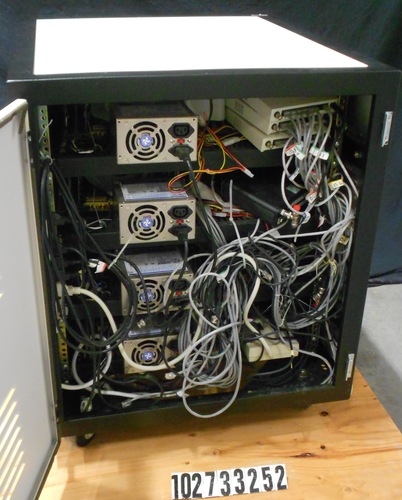 Title
16 processor computer cluster
Date
circa 1994
Identifying Numbers
| | | |
| --- | --- | --- |
| Other number | 1532776 | On a NASA bar-coded property tag located on the top left corner. |
Dimensions
overall: 33 in x 27 1/2 in x 34 in
Description
The object is a rack with front and rear doors.

Inside the front door are 4 slide-out shelves. Each shelf has 4 PC motherboards, 4 disk drives, and one power supply. In general, each motherboard has an Intel DX4 processor, 1 memory DIMM, and 4 I/O cards. The I/O cards are a hard disk controller, a video card, a Thinlan 10BASE2 Ethernet card, and a 10BASE-T Ethernet card. Some of the disk drives and memory DIMMs are missing.

Inside the back door are 3 Kingston 10BASE-T hubs and 1 BOCAHUB box which connects to the 10BASE2 Thinlan. There are also 4 wall-mount power supplies for the hubs. The are numerous power cords and Ethernet cables. All this is just stuffed into the space behind the pull-out drawers.
Category
Digital computer/supercomputer