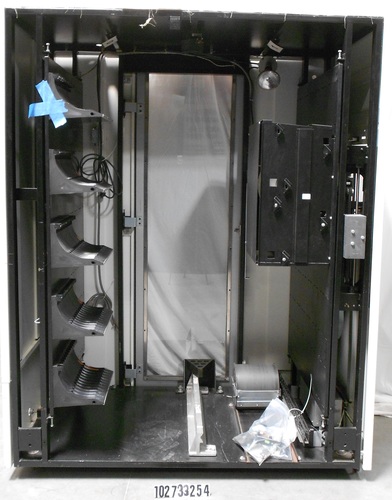 Title
Automated Tape Library - box with door
Description
The object is a large box, intended to be one of many joined on their long sides to form an arbitrarily large system. This object is an end box, with one long side covered by a panel which has a door in the middle. The other long side is open. One narrow side is covered by a blank panel.

The opposite narrow side is covered by a panel which has an opening for the arm of a tape handling mechanism to reach outside of the box while holding a tape. This same tape handling mechanism can also reach into the middle of the inside of the box to pass a tape to or from the tape retrieval mechanism inside the system (object 102733743). At the bottom of this side is a door which gives access to the control electronics for the tape handling mechanism.

The inside of the box is lined with racks to hold standard 10.5 inch magnetic tape reels in their cases. There is a bracket on the floor with holes to mount the lower rail for the internal tape retrieval mechanism. There are two bags of hardware inside on the floor.
Manufacturer
Xytex
Place Manufactured
Boulder, CO
Identifying Numbers
| | | |
| --- | --- | --- |
| Other number | 93.511.01A | Deprecated LLNL number written on top right corner of glass door. |
| Serial number | 10095 | Stamped on a manufacturer's plate inside on the bottom, near a corner. |
Dimensions
overall: 79 in x 34 1/2 in x 63 in
Category
Component/panel/door
Credit
Gift of Lawrence Livermore National Laboratory (LLNL)