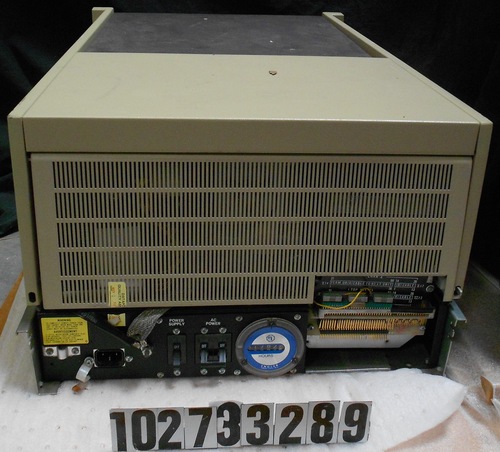 Title
Storage module drive for removable disk pack
Description
The object is a rather nondescript beige metal box. Extending from the front for about 2/3 the depth is a brown cover that lifts by releasing a latch below a piece of aluminum trim attached to the front near the top. Lifting the cover reveals a 14" drive for a removable disk pack. A small panel on the front has four square pushbuttons with a red LED above them. The second button from the left is not as tall as the others and has a '0' label on the front. The groups of buttons and LEDs is labeled, left to right: "START," "READY," "FAULT," and "PROTECT."

Below the cover are two hand slots for pulling the unit out from its stack enclosure on two heavy-duty drawer slides.

The top part of the rear has a lift-up panel with rectangular vent holes that conceals, from left to right, an enclosed unit (possibly a power supply), the back of the drive with a cable from the heads extending from it, and a card cage. Below the panel, from left to right, there is an IEC power plug, a ground lug to which two heavy conductors coming from behind the panel are attached, a single pole switch labeled "POWER SUPPLY," a two-pole switch labeled "AC POWER," an elapsed time meter, and a group of wire wrap terminals with four rows of terminals on the upper one and two rows of terminals on the lower one. Above these there is a legend that reads "TERM. OR(A) CABLE TO NEXT UNIT" for one group of terminals and "B CABLE" for the other group.
Manufacturer
Magnetic Peripherals, Inc
Identifying Numbers
| | | |
| --- | --- | --- |
| Other number | 47200703 | Stamped on a metal housing behind the rear lift-up panel. |
Dimensions
overall: 11 3/8 in x 19 1/8 in x 31 1/4 in
Category
Memory & storage/disk