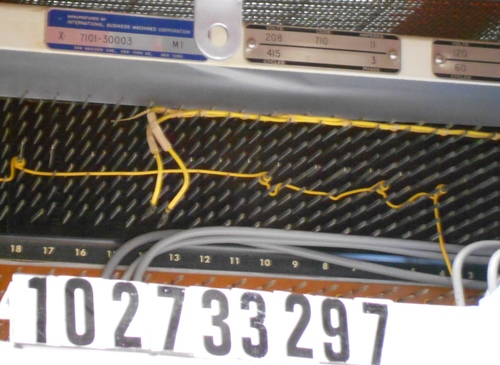 Title
7101 Central Processing Unit 14 (IBM Stretch)
Date
1961
Manufacturer
International Business Machines (IBM)
Place Manufactured
N.Y., U.S.
Identifying Numbers
| | | |
| --- | --- | --- |
| Model number | 7101 | Found on the label on the right front door of the unit. |
| Other number | 14 | Unit number found on the right front door. |
| Other number | X-7101-30003 M1 | Found on a metal tag on the right CPU frame. |
Dimensions
overall: 69 in x 20 in x 66 in
Description
This object has a metal frame with one open side, one side covered by three panels, and a door on the back. the frame is boardered by chrom trim strips. The front two thirds of the frame contain a roll-out unit with two hinged card cages. The cages are filled with IBM modules. At the top there is an orange add on bracket with one screw protruding from the middle. The back third of the frame is for cabling. In the right card cadge four rows of connectors have been replaced by a sheet of masonite and brackets holding power resistors.
Category
Digital computer/supercomputer
Credit
Gift of Lowell Wood