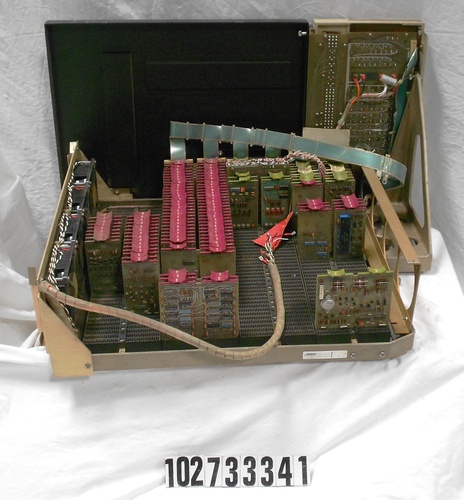 Description
This record contains one PDP-8/I. The front is a computer front panel with spaces for indicator lights and it has various switches/buttons. It looks like it was an 18 bit computer. The inside is partially populated with flip chip modules and integrated circuits lodged into designated spaces. There are 4 chassis with 80 flip chip sockets each. There are four fans on the bottom. There is a dangling 12-wire cable attached at the back. The bottom has a sliding rod, which indicates that the machine possibly was pulled out like a drawer. There is a double wide extra high set of 5 circuit boards with core memories inside. The label on the back has "Maynard, Massachusetts" on it. There is a PDP-8/I light board that holds the lights. There is also a switch board that has the date, "10-68".
Date
1968
Manufacturer
Digital Equipment Corporation (DEC)
Identifying Numbers
| | | |
| --- | --- | --- |
| Other number | L-904 | Stamped into the metal tag on the back. |
| Other number | M-26 | Stamped into the metal tag on the back. |
Dimensions
overall: 30 3/4 in x 19 in x 23 1/2 in
Category
Digital computer/minicomputer
Credit
Gift of Computer Transceiver Systems, Inc.