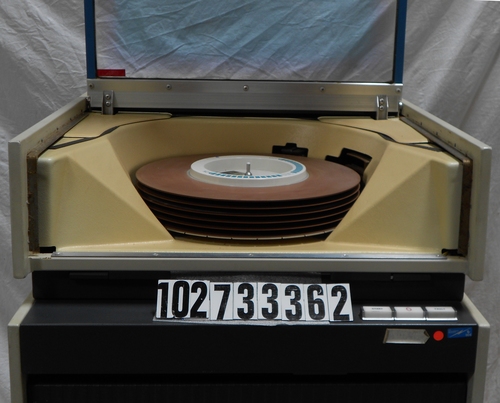 Title
857 disk storage drive
Manufacturer
Control Data Corporation (CDC)
Identifying Numbers
| | | |
| --- | --- | --- |
| Model number | 857 | Logo on front panel |
| Other number | 12753 | Dymo label top cover |
| Other number | 93.508.01A | Deprecated LLNL number written on front panel |
| Other number | BJ104A | Two labels inside front right |
| Part number | 41250005 | Black label inside front right |
| Serial number | 12753 | Black label inside front right |
Dimensions
overall: 40 3/4 in x 24 in x 36 in
Description
This object consists of a rectangular lower section that is 28.5" high. Its front panel is black and recessed about 0.5" starting two inches below the top. A vent 2" high runs across the upper end of the recessed section.

The upper section is another rectangular section 7" high whose base is recessed 3.25" from the front of the lower section. The front panel above this extends toward the front 1.5" and is blue with a piece of silver trim running along the bottom. The panel has a metal cast blue, black, and white CDC logo 1" high and 9.25" wide mounted in the middle of the panel toward the left end.

Between the upper and lower sections are three white buttons mounted on the top right side of the lower section that are accessible in the space between the two. The buttons are labeled "START," "0," and "FAULT." On the bottom of the non-recessed upper part of the lower section there is a plain toggle switch that doesn't look like it's part of the original machine.

The whole package sits atop a platform about 2" high and slightly smaller than the dimensions of the lower section. This platform has four castors mounted on it that raises the lower edge of the platform 1.25" off the floor.
Category
Memory & storage/disk
Credit
Gift of Lawrence Livermore National Laboratory (LLNL)