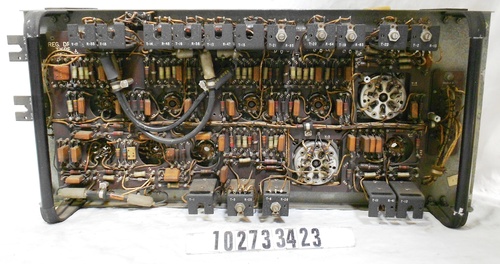 Title
Whirlwind register driver type 1
Date
1951
Identifying Numbers
| | | |
| --- | --- | --- |
| Other number | 01779 | Stamped in blue ink on a white sticker stuck near the lower bottom edge of the chassis. |
| Other number | 01783 | Stamped in blue ink on a white sticker stuck on the right end of the chassis. |
| Other number | 01784 | Stamped in blue ink on a white sticker stuck on the right end of the chassis. |
| Other number | 1795 | Written with pall point pen on a white sticker stuck near the top edge of the chassis. |
| Other number | C7-7 | Written with pall point pen on a white sticker stuck on the left side of the back chassis. |
| Serial number | 16 | Stamped in white ink in the upper left corner of the chassis; also on the component board mounted to the back of the chassis. |
Dimensions
overall: 11 3/4 in x 26 in x 8 1/2 in
Description
This module consists of chassis formed of thick metal folded over on the long edges to form a 0.75" lip. Brackets are mounted on each side that extend 4.25" above the chassis and about 4" below the chassis; the ends of the two brackets below the chassis are connected together by a tube to form a handle. About a fourth of the way from the left end of the chassis there is a subchassis mounted vertically and normal to the chassis. The subchassis has two BNC connectors on the top and bottom edges and four BNC connecters along the front edge. The chassis and subchassis are finished in a green hammertone paint. Holes for a means to secure the module in a frame are located at each corner of the chassis.

Mounted on the chassis to the left of the subchassis there are sockets for two vacuum tubes; one an 8-pin octal socket and the other a septar (1 + 6) socket. Two rows of 4 tubes are located to the right of the subchassis; all but one are 8-pin octal sockets and the one on the bottom row nearest the subchassis is another septar socket. The tube complement is: 2 x 3E29; 3 x 7AD7; 5 x 6Y6G.

19 BNC connectors and a toggle switch are mounted in a row across the top of the panel; 4 BNC connectors are mounted along the right side, 13 BNC connectors are mounted in a row along the bottom of the chassis, and a male cable connector is mounted on the left side.

A large phenolic board holding 9 rows of terminal posts is mounted to the back of the chassis, to which all the components and interwiring of the circuits are attached. Wires connect terminal posts on this board to the tube sockets through large holes cut in the board. Eleven brackets are mounted along the top of the board, 2 on the left, and 5 brackets are mounted along the bottom. Each bracket is formed in a wide, shallow 'U' of heavy metal, mounted to the phenolic board on one side and with cutouts for mounting potentiometers on the other side. Mounted on every bracket is a toroidal transformer with one of its coils connected to a BNC connector on the front of the panel. Potentiometers are mounted on only 7 of these brackets.
Category
Component/module
Credit
Gift of Jennifer Wilson