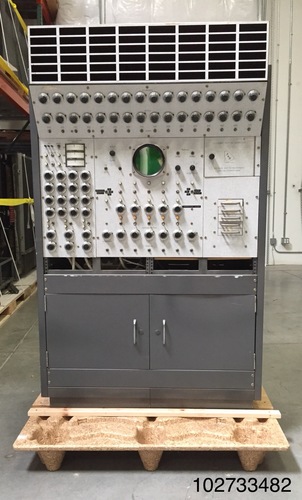 Date
circa 1958
Manufacturer
Davidson and Hemmendinger
Place Manufactured
Easton, Pennsylvania
Identifying Numbers
| | | |
| --- | --- | --- |
| Model number | 10B | Located on label affixed to inside of 'colorant mixture computer' door |
| Other number | 10277 | Located on silver label affixed to outside of 'colorant mixture computer' door |
| Serial number | 1-042 | Located on label affixed to inside of 'colorant mixture computer' door |
Dimensions
overall: 65 1/2 in x 30 in x 41 1/2 in
Description
This object is a COMIC colorant-mixing analog computer that found the mixture of a set of dyes or pigments to match a given sample of dyed fabric, colored plastic, or paint.

The front top-half of the artifact consists of a pale-grey control panel populated by two rows of black knobs along the top, a cluster of four and then two rows of black knobs along the left-side, and two rows of black knobs towards the panel bottom. There is a green circular display screen at the center of the control panel.

To the right of the screen is a small door that reads "COLORANT MIXTURE COMPUTER / DAVIDSON AND HEMMENDINGER / EASTON, PENNSYLVANIA". A "D&H" logo is printed in the middle of the text. A small silver and red label is affixed to the top-corner of the door that reads "PROPERTY OF / Rensselaer Polytechnic Institute." Below the small door is a column of five colorant plug-ins attached to silver colored handles. Below the control panel are two dark-grey metal doors that open to display various components.

The back of the artifact consists of two dark-grey vented metal panels. The panels are attached by Philips-head screws. A red sticker is affixed just below the left panel that reads "110 volts". The power cord is extant and stored behind the vented panels. The cord's insulation is damaged in several places, exposing bare wire.
Category
Fixed-application digital computer/other
Credit
Gift of Richard and Marjorie Ingalls