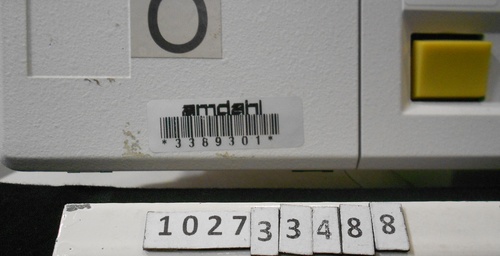 Title
5481/5480 cartridge tape system
Description
This object consists of 2 separate units which are bolted together to form a single item. Each unit has its own model and serial numbers. On the left is the master unit, on the right is the slave unit. The master is twice as wide as the slave.

The master unit has 2 center opening doors on the front and on the back. One of the front doors has openings for a small front panel and an emergency power off switch. Opening the front doors reveals a large power cord with a large 4 pin power connector and a 6 gang circuit breaker. There is also an extended front panel. There are 4 sets of TAG and BUS connectors for interfacing to IBM style I/O channels. Opening the rear doors reveals a large card cage which can be pivoted outward for service.

The slave unit has a door in the front and a door in the back. Above the front door are a pair of cartridge tape drives. Each drive has an opening to load a cartridge. Opening the front door allows each of the drives to be slid out for service. Opening the back door reveals a small card cage which can be pivoted outward for service. There is also a pump and associated plumbing. (This probably supplies vacuum for tape handling.) Sticking out the top of the slave unit is a control panel with switches and indicators for each drive.
Date
1989
Manufacturer
Fujitsu Limited
Place Manufactured
Japan
Identifying Numbers
| | | |
| --- | --- | --- |
| Model number | 5480 | Appears multiple times on the slave unit, associated with the Memorex Telex manufacturer tags. |
| Model number | 5481 | Appears multiple times on the master unit, associated with the Memorex or Memorex Telex manufacturer tags. |
| Model number | M1012A | Appears multiple times on the master unit on Fujitsu Limited tags on the lower front. |
| Model number | M2462A | Appears multiple times on the slave unit, associated with the Fujitsu Limited manufacturer tags, visible under the rear door. |
| Other number | 102625247 | Depricated Computer History Museum catalog number. |
| Other number | 3388901 | Appears on an Amdahl bar-coded property tag inside the bottom of the master unit. |
| Other number | 33893 | Appears on an Amdahl property tag (no bar code) inside the back bottom of the slave unit. |
| Other number | 3389301 | Appears on an Amdahl bar-coded property tag outside on the top of the slave unit. |
| Part number | B03B-5375-B301A | Appears multiple times on the slave unit, associated with the Fujitsu Limited manufacturer tags, visible under the rear door. |
| Part number | B05B-1075-B201A | Appears multiple times on the master unit on Fujitsu Limited tags on the lower front. |
| Serial number | 8003641 | Appears multiple times on the slave unit, associated with the Memorex Telex manufacturer tags. |
| Serial number | 8101364 | Appears multiple times on the master unit, associated with the Memorex or Memorex Telex manufacturer tags. |
| Serial number | JU 1364 | Appears one time on the master unit on a Fujitsu Limited manufacturer tag visible under the front door. |
| Serial number | JU 3641 | Appears one time on the slave unit on a Fujitsu Limited manufacturer tag, visible under the rear door. |
Dimensions
overall: 44 in x 58 in x 29 1/2 in
Category
Memory & storage/tape