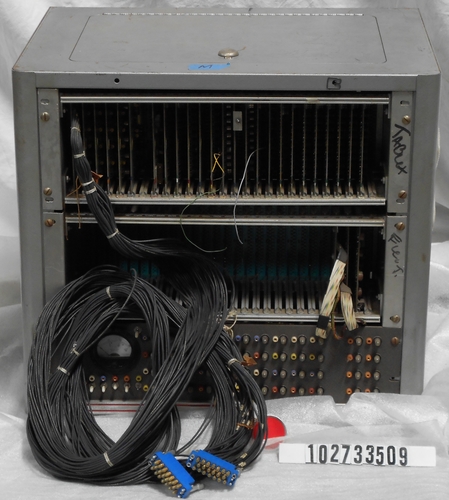 Manufacturer
Massachusetts Institute of Technology (MIT)
Identifying Numbers
| | | |
| --- | --- | --- |
| Model number | R40-.4 BF | Power supply label inside rear. |
| Serial number | 7488 | Power supply label inside rear. |
Dimensions
overall: 19 1/2 in x 21 3/4 in x 18 1/2 in
Description
Object is a small metal cabinet containing a two-row rack for plug-in modules, and a power supply by "Conn Avionics." There is room for 27 modules in each row, there are 26 in the top (one of which has a toggle switch) and 3 in the second. The modules appear to carry discrete transistors. Written on the frame beside the top row of modules is "TABLET" in marker.

Two cables emerge from the modules and terminate in large 20-pin male connectors.
Below is a control panel with a voltmeter at the left. In the middle is a large array of test points and associated pilot lights. There are 7 toggle switches, a power switch, and a rotating switch.
Category
Component/module
Credit
Gift of Digital Equipment Corporation (DEC)