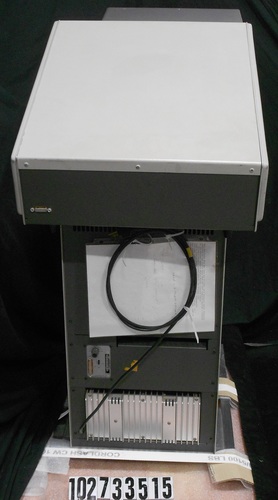 Title
Tektronix 4012 graphics terminal
Manufacturer
Tektronix
Place Manufactured
Beaverton, Ore.
Identifying Numbers
| | | |
| --- | --- | --- |
| Model number | 4012 | Embossed on a plate on the front of the object |
Dimensions
overall: 42 in x 18 1/2 in x 28 1/2 in
Description
The object is a graphics terminal with a qwerty keyboard. On the front are several switches and dials (apparently to control x and y coordinates).A piece of paper found with the object, separately packaged, and attached to the object, reads (in part): "This Tektronix 4010 [sic] was used for 10 years as a graphics output terminal connected to the Control Data 7600 and Cray computers through a network to the National Magnetic Fusion Energy Center [which was apparently part of LLNL]." The object has an DOE/LLL property tag attached to the front.
Category
I/O/terminal