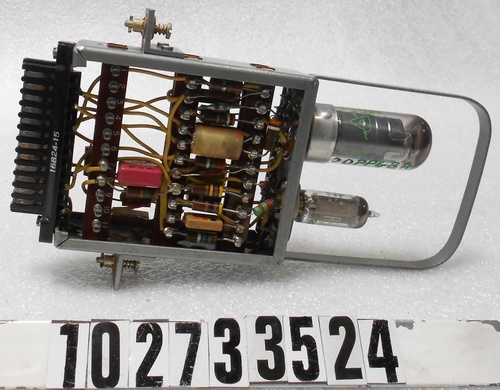 Title
Whirlwind vacuum tube module PPG-BA
Description
This plug-in module is formed by an open chassis on three sides and a Bakelite plug with 24 flat contacts on the fourth side. A handle is attached on the end of the chassis opposite the connector. A flange on each side holds a captive screw used for securing the module into one of the positions of the ten-module rack.

One 8-pin loctal and one 7-pin miniature vacuum tube sockets are mounted on the same end as the handle. Three pairs of phenolic solder terminal strips span the space between the two sides of the chassis to which passive components are soldered. Point-to-point wiring connects the connector, the tube socket pins,and the solder terminal strips.

The tube complement is one 6145 and one 2D21.

Although this module appears to have the same model number as the module described in catalog number 102733251, this module has an additional pair of solder terminal strips and a slightly different component complement.
Date
1951
Identifying Numbers
| | | |
| --- | --- | --- |
| Serial number | 20 | Stamped in white ink between the vacuum tubes. |
Dimensions
overall: 5 1/4 in x 1 5/8 in x 9 1/2 in
Category
Component/module