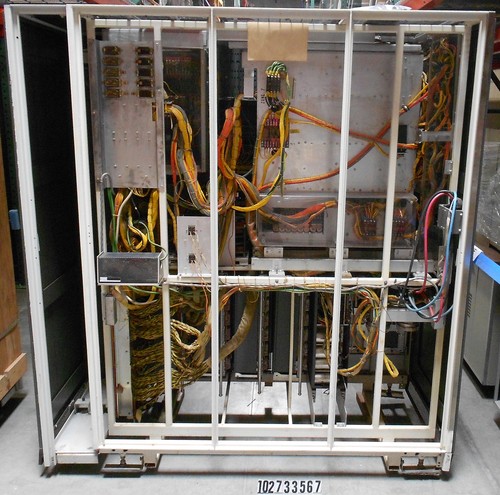 Title
7612 Disk synchronizer 00 console (IBM Stretch)
Manufacturer
International Business Machines (IBM)
Place Manufactured
N.Y., U.S.
Identifying Numbers
| | | |
| --- | --- | --- |
| Model number | 00 | Unit number on the manufacturer's label on the front. |
| Model number | 7612 | Found printed on the manufacturer's label at the front. |
| Other number | 5220968 | Handwritten on the bottom panel at the back of the chassis. |
| Other number | 7612-30003 | Written on a sticker on the front of the machine with a number calculator. |
| Other number | 7612-30003 D2 | Found stamped into a metal tag behind the left side door. |
Dimensions
overall: 70 in x 64 1/2 in x 30 in
Description
The record contains a disk synchronizer engineering control panel. The front panel is arranged in four rows. The top row has lights and switches. The second row down contains lights only. The third row contains switches and a volt meter, and the fourth row contains power switches, lights, and two margining knobs. Below the control panel are eight panels, some of which slide out and some fold up. There is a potential detector exposed on one side. On one side is a plaque reading "This unit was associated with adjacent equipment which includes radio interference elimination circuits..." There is also a booklet for Customer Engineering Maintenance, which has been bagged and attached.
Category
Component/other
Credit
Gift of Lowell Wood