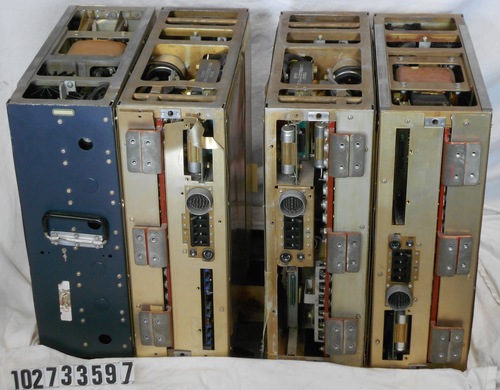 Title
Large linear power supply
Dimensions
overall: 24 in x 8 1/4 in x 22 3/4 in
Description
The object is a linear power supply built into a rugged steel frame. The front of the frame is black and has a sturdy fold-down handle. The top and bottom of the frame are open. The bottom has metal skids to allow the supply to slide forward and backward. Thin metal side panels are retained by numerous captive screws.

The back has 3 large bus bar outputs, a multi-pin connector, a 4 gang circuit breaker, an indicator lamp, and a circular fuse holder. Two removable panels cover the rest of the back. There are access holes for 2 plug in control boards.

Inside the frame are 3 large power transformers, 2 large heat sinks, one large electrolytic capacitor, and variety of power diodes, power transistors, and other electronic components. There are also 2 plug-in boards with additional components mounted on them.

A paper label on the front says "9."
Category
Component/power supply / battery