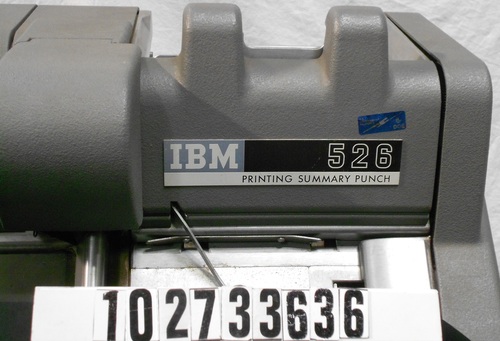 Title
526 printing summary punch
Date
ca. 1964
Manufacturer
International Business Machines Corporation (IBM)
Place Manufactured
U.S.
Identifying Numbers
| | | |
| --- | --- | --- |
| Model number | 526 | On sign on top front of unit and on manufacturer's metal label on right side of unit. |
| Serial number | 13940 | On metal label on right side of unit and handwritten on the in process slot where a card is actually punched. |
Dimensions
overall: 38 in x 31 1/2 in x 28 1/2 in
Description
This unit has an input card feeder in the upper right of the unit. Cards are fed downward into a slot for punching. They then move to the left to a registration slot and then left again to the output hopper. There is a drum card to control formatting of the cards behind a window in the center of the unit. There is a QWERTY keyboard in the center of the desktop with 4 on/off toggle switches labeled "AUTO FEED," "AUTO SKIP/AUTO DUP," "PRINT," and "INTERSPD/INTER PCH." A round red sticker is on the REC button. A printed sign attached to the keyboard reads "1. Type name 2. Hit red dot twice 3. Retrieve card from hopper." Below the desktop on the left is a door to a slot for a programming plugboard. Directly under the keyboard is space for a missing chad drawer. There are also 3 dials with "fuse" written on them. On the right side is a red on/off switch. A removable door on the back covers a rack of relays. A pack of punch cards and a customer engineering incident reporting logbook are attached.
Category
I/O/punched card device
Credit
Gift of Lawrence Livermore National Laboratory (LLNL)